Guitar Hero 2
Originally uploaded by coderkind.
With the blessings of the season upon everyone, and another day yet until I return to work, I see fit to review a PlayStation 2 game that I recently acquired in the flurry of festivities.

I got hooked on Guitar Hero 2 during an excursion to Best Buy with veritate and defender75. I got stuck playing "War Pigs" and "John the Fisherman" for about half and hour and vowed to get myself a copy of the game at some point, though I gushed enough about the game over the last week to ensure a copy was under the tree this year.





Guitar Hero 2
is one of the latest releases in the "
rhythm video game
" genre similar to the Konami arcade game "
Guitar Freaks
." A 3/4 scale Gibson SG guitar is your controller, or rather your "axe" as you will be shredding fairly hard after a few tries.
The song set list is impressive, with song like "Institutionalized" by Suicidal Tendencies and "Sweet Child O' Mine" it feels as if the developers looked into my mix tape collection from high school and based their choices on that. The inclusion of
Spinal Tap
's "Tonight I'm going to rock you Tonight" and Strong Bad's "
Trogdor
!!!" really puts the rock quotient over the edge. The only thing missing is a
Tenacious D
song.
On the topic of "rock quotient," part of the scoring system of the game includes a "Rock Meter" to show how accurate your performance is i.e. How well you "rock" as it were. I think one of these should be installed at every rock concert in the world, and the results would be illuminating.
I really hope one of my PS2 using friends will pick this game up soon so we can have some dual-guitar rock-jamming action.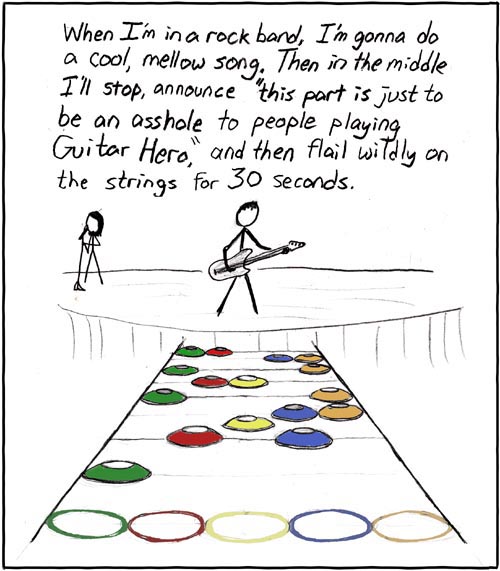 From XKCD comics